This week I watched 6 recommended feature films to discover and write about four habits of persistence of the main character in each film. The movies were "Rudy", "Wild", "The Big Lie", "Mully", "Cool Runnings" and "October Sky." All six of the movies kept my attention and were inspirational and thought provoking.  The four habits of persistence are a Definite Major Purpose (DMP), Positive Mental Attitude (PMA) Plan of Action and MMA (Mastermind Alliance).
The DMP is what drove Homer to achieve what his heart desired. The PMA kept his burning desire front and center and allowed him to attract the help of others. His POA carried him through needing to learn math and rocketry. His MMA became the team of supporters and mentors that helped him along the way to achieve his DMP.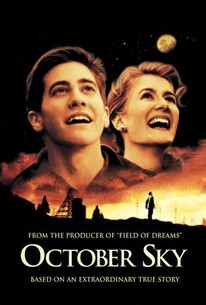 I choose "October Sky" which told the story of Homer Hickam and his journey from a high school age boy in a West Virginia coal mining town to working for the National Aeronautics and Space Administration (NASA) as a spacecraft designer and crew trainer including training space shuttle astronauts.
Homer Hickam's Odyssey began in 1957 when the Soviet Union successfully launched the Sputnik satellite and the whole could see it pass overhead in the night sky. This event created his DMP as the love and desire to learn anything and everything about rocketry and space travel.  His DMP was created when he said "I going to build a rocket".
Along the way he attracted mentors, helpers and supporters to help him – Homer's MMA (MasterMind Alliance). His teacher Miss Riley was his one of his most ardent supporters pushing him to see no boundaries and do what he wanted to do and not just fold into the coal mining future he had been born into. His classmate Quentin was his science and math mentor and also provided him with a sounding board for ideas. His classmates O'Dell and Roy Lee were there to encourage and be the physical helpers to build the rockets and structures. And to chase down errant rockets too. Another helper was Mr.
Bykovsky who welded rocket parts and also taught Homer to weld. At just the right time Mr. Bolden just happened to come to see a rocket launch and lo and behold he was interested in rocketry and discovered that the washer – nozzle – at the base of the rocket was made of inferior metal and had to be improved in order for the rocket to stay on course. In my mind Homer's mother was a quieter but very important supporter of Homer's adventure into rocketry. She supported and protected him from his father. She was able to enlist his father's help to re-open the mine in time to get a stolen rocket nozzle remade in a few hours. There were many more supporters in the high school and also the citizens of Coalwood who rallied together to see the many test rocket launches.
At times Homer had roadblocks, setbacks and doubts but his PMA and burning desire kept him on course to overcome any and all obstacles and learn whatever he had t
o build a real rocket and win both of the science fairs he entered. He learned how to weld, learned the math required and stood up for himself when fighting with his father. All the while he kept pressing on towards the sky.
Homer's POA came together as he needed it. Welding? With help from a mastermind partner he learned to weld. Math? Yes, he studied and learned math. When he was blamed for starting a fire with an errant rocket he proved with his knowledge of the trajectory that it was not his rocket that caused the fire.
While writing this blog about the four habits of persistence one paragraph from Charles Haanel's Blueprint Builder came into my mind as it applies in the October Sky story. I bolded and italicized the sentence "I will engage in no transaction which does not benefit all whom it affects" in the fifth paragraph below. Homer Hickam attracted the people around him to help him but they also benefitted in the his work. The high school friends were able to go to college, his mother was able to gather some respect from her family, his teacher had the satisfaction of helping and seeing her students have a chance and make it out of the coal mines. Mr. Bolden was able to re-live some of the excitement and great memories from his service days. Even though Mr. Bykovsky was killed in the mine he was able to help and mentor the young rocketeers and make some extra money for his family.
When our plans are in accordance with the universal mind and do not take anything away from others involved we can truly achieve our dreams and do it in a harmonious way. I love being able to link what I am learning in the Master Key Experience to real life events. It makes the information come to life and that is very exciting.
Here is Charles Haanel's Blueprint Builder.
First.  I know that I have the ability to achieve the object of my Definite Purpose in life, therefore, I DEMAND of myself persistent, continuous action toward its attainment, and I here and now promise to render such action.
Second.  I realize the dominating thoughts of my mind will eventually reproduce themselves in outward, physical action, and gradually transform themselves into physical reality, therefore, I will concentrate my thoughts for thirty minutes daily, upon the task of thinking of the person I intend to become, thereby creating in my mind a clear mental picture of that person.
Third.  I know through the principle of auto-suggestion, any desire that I persistently hold in my mind will eventually seek expression through some practical means of attaining the object back of it, therefore, I will devote ten minutes daily to demanding of myself the development of SELF-CONFIDENCE.
Fourth.  I have clearly written down a description of my DEFINITE CHIEF AIM in life, and I will never stop trying, until I shall have developed sufficient self-confidence for its attainment.
Fifth.  I fully realize that no wealth or position can long endure, unless built upon truth and justice, therefore, I will engage in no transaction which does not benefit all whom it affects.  I will succeed by attracting to myself the forces I wish to use, and the cooperation of other people.  I will induce others to serve me, because of my willingness to serve others.  I will eliminate hatred, envy, jealousy, selfishness, and cynicism, by developing love for all humanity, because I know that a negative attitude toward others can never bring me success.  I will cause others to believe in me, because I will believe in them, and in myself.
My name is Michael Puffer and I always keep my promises.